Fishing
West Arm and West Bay of Lake Nipissing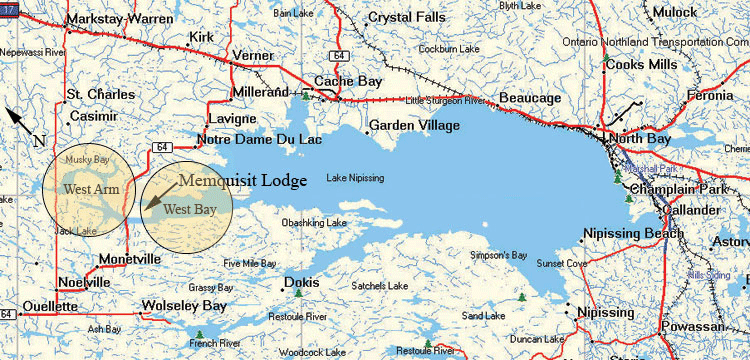 Lake Nipissing boasts numerous large bays located at various points over its entirety. West Bay is one of the largest bays found on the most west end of the big part of the lake. The bay itself consists of numerous smaller bays, hundreds of islands, large areas of open water, plenty of rock shoals and several creeks. The average depth of the bay is approximately 12 feet with the deeper portion found in the channels located on the south shore side. These channels provide the primary navigational route for most boaters. On the extreme west end of West Bay the lake narrows into what is called the West Arms. This area is very similar the the French River. It is a slow moving river system with depths reaching nearly 80 feet. As mentioned above, since West Bay / West Arm consists of many bays, creeks, channels, islands and rock shoals it becomes is a prime region for exceptional fishing.
Guide Service - New for 2021
Lake Nipissing Charters services offered here at Memquisit Lodge
A little information about Regan Thompson. Regan is a lifelong angler and guide on Lake Nipissing. He guides for all species (Walleye, Musky, Pike, Bass, etc.) or any combination of species depending on your preference.
During his time guiding on Lake Nipissing, Regan has guided for customers ranging in experience and skill level from first time anglers, to experienced professionals including Bob Izumi, Italo Labginan, Jim Saric, Pete Maina and more.
Whatever your age, skill level and interests. We tailor each day to our customers to ensure success and fun on the water!
His charter boat is nothing less than 'state of the art'. A Prostaff Sponsored 2018 Triton 216 Fishunter powered by a 350 HP Mercury Verado outboard engine. This vessel can travel at speeds up to 70 MPH and is fully loaded with today's most sophisticated electronics including Lowrance Carbon HDS 12, 9 and 7 Sonar/GPS units featuring 3D structure scan, down scan and side scan technologie, twin Minn Kota Talons and Minn Kota self-deploy Ultrex trolling motor.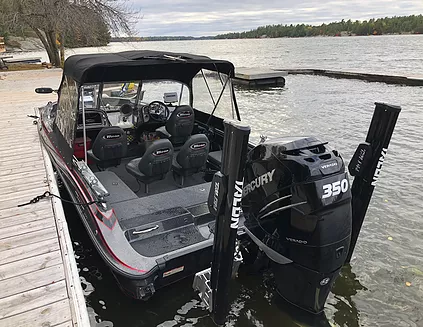 He is sponsored by St. Croix rods and Shimano reels as well as a number of lure and bait manufacturers. This along with our guiding expertise allows him to offer a truly amazing charter experience to our clients.
Fishing for Musky, Pike, Bass, Walleye or a combination
2018 Triton 216 Fishunter - Mercury Verado 350, fully loaded with today's latest electronics and technology
All rods (St. Croix/Shimano), tackle, bait included
Packed lunch included for 6-8 hour days
Shore lunch optional for 6 hour multispecies
Rate based on two passengers, third passenger add $50 up to 4 passengers total
Multi Species - Walleye, Bass, Pike (4 hour)......$495 CAD
Multi Species - Walleye, Bass, Pike (6 hour)......$595 CAD
Musky Hunt (8 hour)..............................................$695 CAD
Regan can be booked through us here at Memquisit Lodge.